Twitter Video Download
---
Flashsave Twitter video downloader is a free and fast tool to Download Twitter Video in a high-quality original. Twitter Downloader is a video production platform provided by Twitter. You can download Twitter short videos and save them to your phone, PC, Laptop, iPad, or iOS device's gallery, and watch them offline anytime you want.
When you download videos from Twitter using our service, you don't have to worry about providing your login details or creating an account, as we don't use the Twitter API for downloads. Best of all, we charge nothing for using our service. Our service is completely free for life, and you can use it to download an unlimited number of Twitter videos. Before you can use our Twitter video download service, you must have a link to the Twitter video you want to download, and you paste it. Twitter Video Tracker seamlessly syncs with the video and generates a download link for you.
Key Features:
---
Fast Downloading
Download Twitter videos with ultra-fast speed. There are no limits on bandwidth when it comes to downloading videos from our service..
No Limits
Feel free to download as many videos as you want using our service. No signup or login required to download Twitter videos.
Fully Secure
No risk of malware on your device. Our website is fully secured with the HTTPS protocol.. Worry-free download.
Select Quality
Flashsave allows you to download videos in various Qualitys, with or without sound. Simply select your preferred video quality, and the video will begin to download.
User-Friendly
Our website is fully user-friendly, designed to make your experience even easier. It is optimized for mobile users, so you can easily download videos on the go.
Free To Use
Fully free to download Twitter videos. We do not require any subscription or login information to download videos using our service.
How to download Twitter Videos?
---
For Twitter Videos download, you have to follow these simple steps for your favorites Twitter video download.
Copy the link to the Twitter video that you want to save or download online.
Paste the link in the download Twitter video input box on the homepage.
Click the 'Download' button to begin processing your video download.
Now, you can choose your video quality and hit download.
When your Twitter video download process is complete your browser tells you the video will be downloaded.
The video will be saved in the Download folder or the default folder that you use to save files on your device.
Twitter Shorts are a new way to express yourself and gain an audience.
---
Every month on Twitter, 1 billion viewers come to Twitter to watch videos from all walks of life, including entertainment, education, and technology, so that you have the opportunity to Connect with them and gain loyal fans who appreciate your content.
How to Copy link for Twitter Download Videos?
---
Open the Twitter.
Select the Twitter video you want to download.
See the "Share" option below the option that appears; click on it!
Now, pop-ups come with the Copy Link option. Copy, Hurray Links Copied!
For further details, please refer to the attached image which provides a step-by-step guide on how to copy the download link.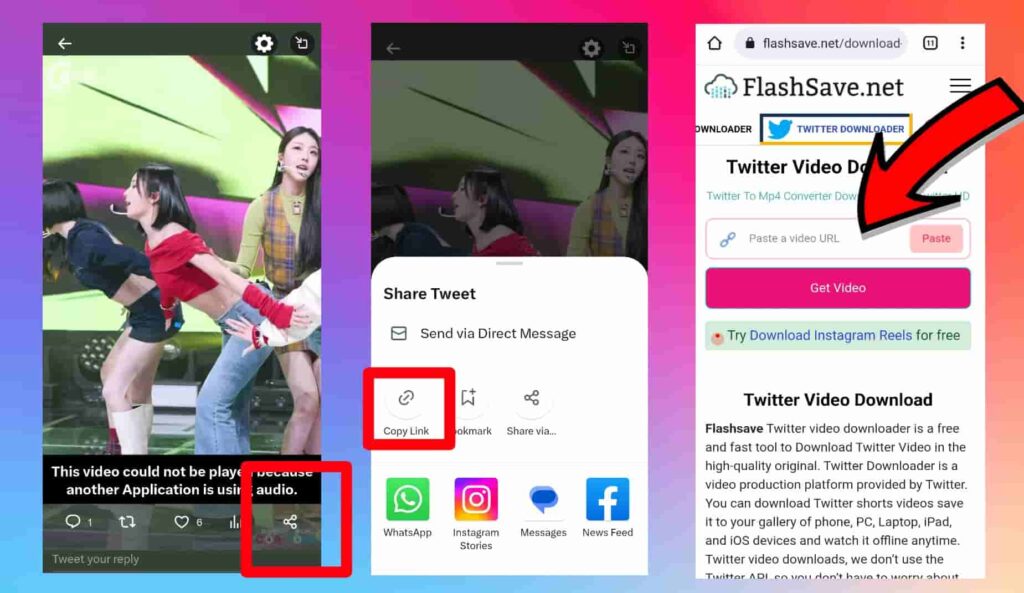 What is Twitter Videos?
---
Twitter Videos is video production platform that supports a maximum length of 140 seconds. In case the first few seconds of your video fail to do that, then the length of your video does not even matter. You want to educate your audience about your brand using a Twitter video, you have the option to make the video up to 90 seconds long.
If the content of your video is engaging and captivating, viewers are typically willing to watch longer videos. If you want to use Twitter videos to generate leads, it's best to create short videos that are no longer than 30 seconds in length. These Twitter videos should focus on topics that are likely to capture the viewer's attention and make them want to click on your brand or the call-to-action (CTA) to learn more.
Frequently Asked Questions
---
FAQ
Notice: FlashSave.Net is not officially associated with Twitter.com. This platform does not host or promote any pirated or copyrighted content on its servers. All uploaded videos are directly saved from their CDN servers onto the user's device.